We just learned that aubio was at Burning Man this year, thanks to the amazing work of Rob Jensen and his friends on the Sonic Runway installation.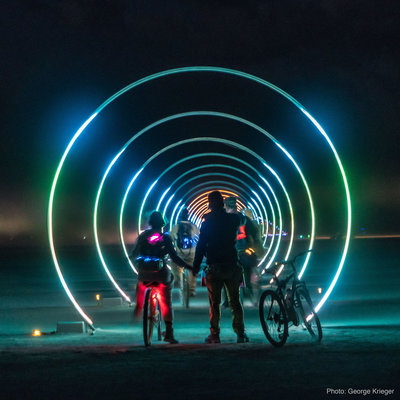 Sonic Runway — photo by George Krieger
Burning Man is an annual gathering that takes place in the middle of a vast desert in Nevada. For its 30th edition, about 70,000 people attended the festival this year.
Sonic Runway — photo by Jareb Mechaber
The idea behind Sonic Runway is to visualise the speed of sound by building a 300 meter (1000 feet) long corridor, materialized by 32 gates of colored lights.
Each of the gates would illuminate at the exact moment the sound, emitted from one end of the runway, reaches them.
The light patterns were created on the fly, using aubio to analyze the sound in real time and have the LED lights flash in sync with the music.
To cover the significant cost of hardware, the whole installation was funded by dozens of backers in a successful crowd-funding campaign.
Here is a video of Rob Jensen presenting the concept:
As Rob explains in the making-of page, the sound was picked directly using a classic microphone hooked to the first gate and analyzed via ofxAubio with a custom built openFrameworks application:
It turned out that the audio from the microphone was sufficient to pick up the music from the art cars. [...]

We mounted the microphone to the top of the first gate with some zip ties, and ran the XLR cable back to the base station.
Another video shows the Sonic Runway in action, with clear interactions between sounds and lights. The following video of Greg Oreck and Holmar Filipsson set on the Mayan Warrior art car gives a glimpse of the atmosphere surrounding the installation.
The installation has had a very warm welcome from the crowd, and you will find a lot of videos, images, and comments about it online. We are currently working with Rob on improving the audio analysis for future installations, so expect to see more soon.
Find out more details about how aubio and ofxAubio were integrated in the installation on the making-of page.
Built something with aubio? Share it with us!
Thu, 29 Dec 2016, 14:45. trackback - view/add comments
© 2003-2017 the aubio team | cc-by-sa